Carol Klein Mack '60: International Reality Theater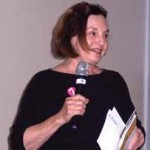 SEVEN, a collaborative theater production initiated by playwright Carol Klein Mack '60, premiered in 2008 at the 92nd Street Y in New York City during a snow storm on Martin Luther King Day. Worried that the attendance might be thin because of the inclement weather, Carol remembers being delightfully surprised when the venue was filled to the rafters.
Carol, whose plays have been produced off-Broadway, in numerous regional theaters in the US, and in Scotland, had the brainstorm for SEVEN while attending her first meeting of the Vital Voices Global Partnership, an international organization that supports and trains women leaders from around the world.
Faridi Azizi, a founding member of Afghan Women's Network and the Corporation for Peace and Unity, was speaking about the challenges she faces promoting women's rights in Afghanistan. Impressed with Azizi's presentation, Carol offered the president of Vital Voices an opportunity to bring the messages and voices of female leaders to the stage.
Appealing to six other playwright colleagues, Carol amassed the team of female writers who were assigned their subjects to meet and interview—seven women leaders from Pakistan, Guatemala, Cambodia, Russia, Nigeria, Northern Ireland, and Afghanistan. Monologues were written, interwoven, and presented as a direct-address, documentary-style of theatre. In all, the production took two years to be realized from page to stage.
Northern Ireland's Inez McCormack, a civil-liberties activist devoted to fair labor practices, was recommended to Carol as a subject for SEVEN. McCormack was portrayed by Meryl Streep in last year's production at New York's Hudson Theatre.
"I just love theater and always have—I was acting, I was writing," said Carol when asked about her theater involvement at MHC. SEVEN continues to tour theaters and universities across the country and overseas, the latest production taking place in Serbia.
—By Kris Halpin 
March 30, 2012