Deborah Woodward Alexander '57: Where Illiteracy is the Real Enemy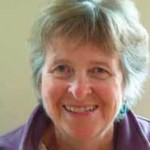 September 11, 2001, deeply affected people around the world and moved many to take some action to redress the numerous injustices that criminal act brought to light. Deborah Woodward Alexander '57 was one of them.
A longtime resident of Canada, Deborah first organized a sponsorship group in Calgary, Alberta, for a refugee family of seven from Afghanistan. A clinical psychologist for children and families, she soon learned of another organization, Canadian Women for Women in Afghanistan (CW4WAfghan), that supports Afghan women's initiatives to provide education for women and girls.
From adult literacy classes to training teachers, from introducing science labs to starting libraries, the group believes that a literate population—most Afghan villages barely boast a 15 percent literacy rate—offers the best hope for lasting peace.
"When CW4WAfghan started [in 1996], there were no girls in school and now there are 3.5 million," notes Deborah, who is a board member, handles media relations, and gives presentations to Canadian school children. "Women are the people making the changes in Afghanistan and looking at a future that will be different."
Unless, of course, the Taliban reemerges following the pullout of US and NATO forces. "We are in touch with a lot of women in Afghanistan and there is great dread that there will be a reversion to the kind of repression [of the past]. It's terrifying."
So the group does its work with the fervor of reporters trying to make a deadline. Two thousand more teachers have started a training program. Libraries in small villages are teaching the rural poor to read. Computer educational resources are being shared.
"The real enemy in Afghanistan is illiteracy," says Deborah, paraphrasing a Canadian military officer. "It is really the basis of all of our work."
—By Mieke Bomann 
Read more about the group at cw4wafghan.ca.
February 15, 2012