MHC Moment: November 2012
Mary Lyon's Dream: How a Frail Boat on a Boisterous Sea Changed the Course for Women Around the World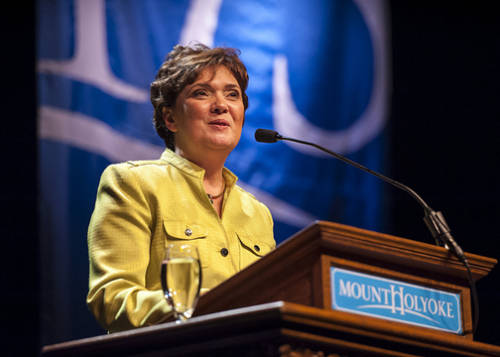 In 1834, Mary Lyon wrote, "I am about to embark in a frail boat on a boisterous sea. I know not whither I shall be driven or how I shall be tossed, nor to what port I shall be directed" (Fisk 92). Lyon's courageous journey was undertaken with the quest of providing a solid foundation for the establishment of a permanent institution for the education of women. According to Lyon, "The permanency of an institution is found in its perpetual vitality and its continued prosperity and usefulness." When the doors of Mount Holyoke opened on November 8, 1837, our founder was steadfast in her conviction that the principle of educational excellence for women at the center of this mission, could indeed be upheld. What she could not have imagined are the ways in which Mount Holyoke's perpetual vitality and usefulness have evolved over the past 175 years, or the extent to which this anniversary would serve as a celebration of Mount Holyoke's historic role in higher education.
Characterized by innovation, Mount Holyoke has continually reaffirmed Mary Lyon's vision of vitality and usefulness. During the Great Depression, Mount Holyoke faculty offered courses at the YWCA in Hartford for students who paid $250 a year for tuition. Now, seventy-five years after the experiment in Hartford, our perpetual vitality is marked by the quality of our curriculum, the preeminence of our faculty, the dedication of our staff, the vibrancy of our creative community, and the strength of our student body–the latter of which is enhanced by their extraordinary diversity. In fact, it came as no surprise to those of us on campus that Mount Holyoke was ranked first in the country for international students by Newsweek last year, followed by Yale, Macalester, and Princeton. Indeed, our diversity is one of Mount Holyoke's most significant assets, not only because it is a critical component of a truly liberal education, but because it provides an environment for study and reflection that is a microcosm of the world in which people will live and work beyond college.
But while our vitality and prosperity are incontrovertible, what should be made of the continued usefulness of women's education? Just last summer, in a letter to the Boston Globe, one reader questioned why women's colleges continue to adhere to single-sex education when even such long-standing bastions of male power as the Augusta National Golf Club have decided to set aside their men-only policy.
The author of the letter, and anyone who questions the value of women's education in contemporary society, should be reminded first and foremost that while the role of women in America has changed dramatically over the past seventy-five years, we still have far to go, as evidenced by the 2011 World Economic Forum's Global Gender Gap Report. The report concluded that women remain well behind men in two critical area–economic equality and political power. In fact, for all of the rhetoric around women's progress and the disappearing male, women hold fewer than 20 percent of all national decision-making positions. Thus, in her article, "The Myth of Male Decline," Stephanie Coontz asks, "How is it that men still control most important industries, especially technology, occupy most of the positions on the lists of the richest Americans, and continue to make more money than women who have similar skills and education? And why do women make up only 17 percent of Congress?"
The report also noted that despite improvements, women's average earnings remain lower than men's, and women and children are still more likely to be among the poor. Mothers are less likely to be hired than men with the same qualifications, and if they are hired, they earn on average $11, 000 less. When women do rise to the managerial ranks, they earn only 73 percent of what their male counterparts earn. And, at the highest echelons, only 4 percent of the CEO's in Fortune's top one thousand companies are female. Further, as women gain prominence in areas that were previously all male, the pay for those jobs declines in relation to similarly skilled work.
A recent study out of Yale confirmed additional hidden biases against women, this time in the STEM disciplines: science, technology, engineering and mathematics. Findings revealed that established scientists at top research universities, both male and female, unconsciously rate women scientists as less capable, less worthy of hiring, and less deserving of mentoring than men who have identical credentials. In addition, they proposed starting salaries for men that averaged 14 percent higher than those for women.
The social forces that limit access and persistence of women and girls in the sciences extend around the globe. The Institute of Physics issued a report last month indicating that nearly half, 49 percent, of all state schools in England do not send any girls on to study A-level physics. However, those who attended girls' schools were two and a half times more likely to study A-level physics. As I noted in a letter to the New York Times in reaction to these studies, our commitment to women's education will continue to be an important factor in achieving parity. Mount Holyoke's laboratories are free of the sort of gender bias revealed in the Yale study. It is no accident that Mount Holyoke and our sister institutions have outstanding track records in producing graduates who go on to earn PhD's in the sciences. And the fact that women hold every student leadership position on our campus paves the way for our graduates to enter the world ready to make a mark, and to encourage other women to do the same. Efforts like these, multiplied thousands of times in any academic year, point to the continuing importance of women's colleges.
Moreover, we must also remember that not all discrimination against women is unconscious or hidden. Mount Holyoke's continued commitment to providing access for women from around the world, regardless of socioeconomic background, contests those who would deny education to half the population. A stark reminder of this reality came with the attempted murder of fifteen-year old Malala Yousafzai on a Pakistani school bus by extremists who attacked her because she is an articulate and compelling advocate for the education of girls. Accused of harboring obscene and Westernized notions, she remains in a British hospital under continued death threats. Another instance of bravery in the fight for educational access for girls was brought to my attention by one of our recent graduates, Elena, from the class of 2011. Elena sent me a note about her friend's mother who was cited as one of CNN's "Heroes of the Week" for starting the Zabuli Education Center in Afghanistan. The center was established in the midst of 185 documented attacks on schools and hospitals, that according to the U.N., involved armed resistance of access to services for women and girls. The girls faced threats of acid attacks and poison, yet resisted with the help of armed guards who continue to test their air and water daily. Mount Holyoke has our own hero in the region, alumna Sadiqa Basiri Saleem, founder of the Oruj Learning Center, who is among those being recognized today. Sadiqa's passion has led to the expansion of educational opportunities for women by offering leadership and management training at her country's first community college for women. Mount Holyoke applauds and supports these initiatives through our curriculum, in the McCulloch Center for Global Initiatives and the Weissman Center for Leadership, along with programs such as the Women in Public Service Project. In collaboration with the US State Department, our sister colleges, and the Woodrow Wilson International Center for Scholars, these efforts are designed to foster the next generation of women leaders who will work toward global justice and the economic empowerment of women.
After 175 years, Mary Lyon's dream of permanency through vitality, prosperity and usefulness lives on. As we look to the next 175 years, we do so with the certitude that her spirit of innovation will continue to inspire us to reach new heights and the knowledge that the women of influence we celebrate today will be joined by our current students who are already making history!
November 20, 2012