Web Extras for Spring 2011 "Afghan Women Today"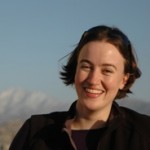 ABOUT PHOTOGRAPHER AMY KOLER '02
• See more images by Amy Koler at her Web site.
• About Amy Koler: "I work for the Agency for International Development. My job brought me to Kabul, Afghanistan where I've lived since March 2009. Although I spend most of my time at the American Embassy compound, I've had a handful of opportunities to travel out to some of the provinces. Those trips have undoubtedly been the most meaningful and memorable parts of my stay in Afghanistan.
"I became interested in photography in college. After a summer spent backpacking through Europe followed by a semester in Ireland/Northern Ireland, I triumphantly returned home with 56 rolls of film. As I was backpacking alone, my photos were my way of sharing my experience with my family and friends (luckily for my friends, I only subjected my blood relatives to reviewing all the photos and accompanying narration). I enjoyed the photography as an additional way to experience the travel, and took several photography classes after returning home.
"Photography, I've found, fits neatly in with my other interests (mostly). I enjoy traveling, reading, writing, playing outside, and most anything to do with sports (playing, photographing, discussing). I am a devoted fan of the Seattle Mariners, Seattle Storm, and University of Washington Huskies, and will happily discuss baseball more than most people would care to listen.
"I attended Mount Holyoke College, and the Maxwell School at Syracuse University where I received master's degrees in international relations and public administration.
When I am not living in Kabul, I live in Washington, D.C., although I will always be a Seattleite at heart"
Reading Suggestions from Amy Koler About Afghanistan
• Afghan Women Speak: Enhancing Security and Human Rights in Afghanistan, By David Cortright and Sarah Smiles Persinger (2010)  Report available in PDF form
• Articles by Rachel Reid, researcher for Human Rights Watch: (See all of HRW's articles on Afghanistan here.)
• Read about USAID's work in Afghanistan here.
---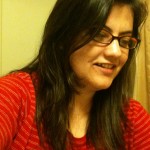 Malalay Waziri FP'09 wrote "On Being an Afghan Woman" in the spring Quarterly
---
This Just In: "Freedom's Forked Road," a Boston Globe article about current Afghan student Nagina Khudaynazar '11, who went back to Afghanistan to study infant mortality in a Kabul hospital and ended up helping to save infants' lives.
---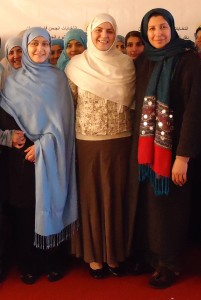 ABOUT SADIQA BASIRI SALEEM, FP '09
The Oruj Learning Center was cofounded in 2002 by Sadiqa Basiri Saleem, who spent many years in Pakistan as a refugee during the Taliban years. It provides an education for young girls in remote regions of  Afghanistan.
After returning to Afghanistan, Saleem put up her own money to pay for the education of thirty girls from her home village of Godah. Oruj has established six girls' schools in the rural Wardak and Nangarhar provinces and opened the first Afghan community college for women.
Since 2009, Saleem has also served as a professional development centers manager for the USAID-funded Academy for Educational Development's Higher Education Project in Afghanistan. She previously served as director of external affairs and deputy director of the Afghan Women's Network, where she represented the interests of Afghan women in national and international policy forums.
ABOVE: Sadiqa Basiri Saleem FP'09 (center), founder and director of the Oruj Learning Center, with Program Manager Afzoon Aziz (right) and students at Afghanistan's first community college for women.
Reading Suggestions from Sadiqa Basiri Saleem about Afghanistan
Kabul in Winter: Life Without Peace in Afghanistan by writer, photographer, and former MHC faculty member Ann Jones, who calls herself " an outraged activist for civil rights, women's rights, and peace."
Afghanistan: Where God Come to Weep by Siba Shakib
Torn Between Two Cultures by Maryam Aseel
A Bed of Red Flowers: In Search of My Afghanistan by Nelofar Pazira
The Sewing Circles of Herat by Christina Lamb
However Tall the Mountain by Awista Ayub
More About Oruj Learning Center, the First Women's College in Afghanistan
Sadiqa Basiri Saleem provided us with this overview of the college she helped found.
Primary Problems
Almost three decades of war and the socio-political changes in Afghanistan have destroyed the fabric of the country and devastated its people, especially women and children. Yet, the war has had one positive impact. To ensure their children have access to education, more than five million Afghans returning from Pakistan and Iran have settled in major cities, where there are some schools, instead of in their places of origin, where there likely are none. Families appear to understand their children will have a better life by at least achieving a high school diploma, if not a college degree.
However, the choices remain slim for higher education. Some students are able to gain admissions into the country's few government-run universities, and others pay for their study in private institutions, though this option is not affordable for many families.  Women are those most often denied the education track, their rights falling victim to Afghan traditions. In a deeply patriarchal society, families that can afford to educate one child will invest in a son. The Afghan government runs 18 institutions for higher education but due to limited human resources and limited seating capacity, the government cannot meet the growing demand. In December 2009, more than 100,000 students applied for admission into one of the higher study institutions in Afghanistan, and only approximately 23,000 high school graduates were accepted into universities, according to a report issued by the Ministry of Higher Education. Of the 23,000 admitted, only 7% of them were women, the report said. Further, the Afghan Ministry of Education released statistics in January 2009 showing that 35 percent of the country's 6.4 billion students graduate every year, yet only 5 percent are women.
The failure of significant numbers of women to be admitted to higher education is only one reason they are unable to pursue their studies. In a traditional country like Afghanistan most of the families are reluctant to send their daughters to universities that are co-ed and located in the provinces outside Kabul where there may be university opportunities but more potential for security threats and sexual harassment.
As high school graduates, they are unlikely to have sufficient work experience, which makes it harder for them to be recruited for jobs that would allow them to financially support their families. In short, they are generally not hireable. In the rare instances when these recent high school graduates do get hired, they work in positions subordinate to men, preventing them from reaching their full potential and from taking on leadership positions. In addition, they regularly experience discrimination and, in some cases, sexual exploitation in the workplace which lead to their solitary confinement at homes for good.
What results from this lack of higher education and a dearth of work opportunities for women is the perpetuation of Afghan stereotypes characterizing women as a drag on the economy. Yet, women comprise half the Afghan population and their role and contribution has been prominent throughout Afghan history. Even those who are illiterate can deftly sew and tailor, do masonry work, feed livestock, grow vegetables and farms. These contributions are not considered prominent and are not publicly visible, however, so they are not an automatic entrée for women to be included in important decision-making processes, either at home or in the context of civic engagement.
The Solution
In contrast, educated and employed Afghan women have more influence and are allowed to participate in making decisions that: ensure economic growth (to eradicate poverty that commonly victimizes women and children), eliminate violence against women (through banning customary laws and enacting laws that promote women's human rights), and increase women's access to health care. But recent statistics show that only 1 percent of Afghan women are in leading positions and the chance is slim in the near future for women to increase this percentage through the Afghan Ministry of Higher Education. To ensure that more women become authentic leaders and are included in the decision-making process, especially now when the international community more than any other time is committed to supporting Afghan women, they need access to quality higher education. This is the path for women to enter the workforce in higher-level positions so they can find their voices and be heard as part of the process.
The Innovation: Oruj Leadership and Management Institute
The Oruj Leadership and Management Institute (OLMI), established in September 2009 by Oruj Learning Center, a women-led and local non-profit organization based in Kabul, has taken initial steps to contribute to addressing the problems outlined above. Recently registered as the first two-year women community college with the Ministry of Education, the Institute aims to, over time, transition the Institute to a four-year women's college that is capable of producing intellectual, inspiring, dedicated, and dynamic female leaders who otherwise would be confined at home, either subject to forced marriages or other forms of domestic violence, thus paralyzing their roles and personalities. "Oruj is about hope, inspiration, and commitment to women's proactive role in a deeply traditional society…It is the only Institute, where I am allowed to get a higher education…" Mariam Sadaat, 22, a first-year student.
At the Institute, 100 women are admitted and trained every year in one of two areas (Business Administration and Advocacy and Lobbying) and assisted in their preparation either to enter university or to enter the professional job market, promoting their participation in the workforce and decision-making. In addition, the Institute plans to establish a Job Placement Student Services program to work with the final year students and place them in internship programs, and to train them in resume writing and interview skills so they can actively pursue gainful employment upon graduation.
Specific Activities
The Institute education begins with English and computer literacy (MS Office) as foundation courses, and the curriculum goes on for one year to train all students in a series of other core courses, such as the principles of leadership, management, communication, organizational behavior, project planning and implementation, monitoring and evaluation, organizational bylaws, organization and workers rights and etc. By the end of the first year, students are categorized based on their interests in Business Administration or Advocacy and Lobbying. Over two years, they are taught at least 12 courses in business administration and 12 courses in advocacy and lobbying.
In this first year of the Institute, the program has been successful in the following ways: a building in Kabul has been rented to house the two-year program, the faculty has been identified, the curriculum has been developed and the Institute has been established and registered as the first women community college with the Ministry of Education. In addition, the Ministry of Education has identified and recommended students for the Institute through Kankor (the national entry test of Afghanistan). Students also have been identified by advertisement announced through radio, TV and billboards.
Oruj, which in Dari means ascent, is an organization that has eight year of experience in establishing primary girl schools, teaching thousands of girls and training hundred teachers. However, to transition the Institute to a four-year-college, the organization has identified national and international staff to prepare curricula for the final two years, to assist in creating the Charter of the College and to provide suggestions in establishing an Alumnae Association, which will serve as the first step toward sustainability of the college.
Sustainability
International and local donors/supporters, National Endowment for Democracy and Liechtenstein Development Service, have provided seeds grant for the Institute. The Founder and Board Member of Oruj has raised $50,000 through Diane von Furstenberg Award at the United Nations in March 2010 and has recently raised another $12,500 through Koldyke Fellowship provided by the Chicago Council on Global Affairs. In the next three to five years, as the program transitions to a four-year college, the following steps will be taken to ensure financial sustainability: computer lab and library membership, charging an affordable tuition fees, fundraising events organized by Alumnae Association, consultancy and research services, receiving contracts of training female staff of Afghan ministries and getting into the national budget of Ministry of Higher Education and Ministry of Women's Affairs. Potential groups/individuals committed to this project and to Oruj's work are: the Vital Voices Global Partnership based in Washington DC and the President and Dean of Mount Holyoke College. They will be involved in making suggestions and providing technical assistance toward some of the above mentioned plans.  At the end of five years, the college will be generating 50 percent of its own budget/expenditures and working with donors to generate the remaining half until an entirely sustainable plan has been developed and implemented.
---
[article from Northampton, MA's Daily Hampshire Gazette on May 20, 2011]
Mount Holyoke graduate finds meaning in helping her homeland of Afghanistan
By SUZANNE WILSON Staff Writer
"If we all keep running from our country, then it will never be rebuilt," says Nagina Khudaynazar, who is preparing to graduate from Mount Holyoke College Sunday.
SOUTH HADLEY – Nagina Khudaynazar says even some of her close friends at Mount Holyoke College don't quite grasp her desire to go back to her homeland.
Why, her friends have wondered, is she willing to risk her safety in the war-torn country of Afghanistan where women still have few rights?
But Khudaynazar, a 22-year-old senior who will graduate on Sunday, says she believes strongly that part of her future lies in the country of her birth. She has already traveled back once, spending a month last winter doing volunteer work at a crowded maternity hospital in Kabul.
"The conditions aren't ideal," Khudaynazar said, with some understatement, during an interview earlier this week in South Hadley. "But if we all keep running from our country, then it will never be rebuilt."
After this weekend's graduation ceremonies are over, Khudaynazar will head back to Boston to live with her parents, her three sisters and her brother. The family settled in the Boston area in 2001, after a long, arduous journey from Afghanistan.
Her immediate goal is to work for a couple of years, hopefully as a medical research technician, and save some money. Then she plans to apply to medical school – her top choices are the University of Massachusetts Medical School or Tufts University School of Medicine – to become an obstetrician/gynecologist.
And after that, she wants to help bring reproductive health services to women in Afghanistan's rural areas.
"I've always felt, if I can help in any way, then I would," she said.
Though it might be tempting to file those words under youthful idealism, Khudaynazar's resolve – and her life story – suggest otherwise.
"She's someone who really goes out and creates opportunities on her own," says Jeffrey Knight, chair of the biological sciences department at Mount Holyoke. "She has so much energy, so much on the ball, and she's got a tremendous work ethic. She's a glass-half-full kind of person and she just lights up a room."
Childhood memories
Khudaynazar grew up in the city of Mazar-e-Sharif in northern Afghanistan.
"I have great memories of playing outside, of visiting my grandparents, seeing their huge gardens," she said.
The family's circumstances were comfortable – her father was a lawyer who worked for the government, she said, and her mother was a biology teacher.
But everything changed in the 1990s, with the rise of the repressive Taliban. In 1998, when Khudaynazar was just 9, her family fled their home and, after a harrowing escape by bus and on foot, wound up in a refugee camp in Pakistan. From there, they made their way to Turkmenistan where they applied for and got permission to enter the U.S.
Khudaynazar, who has since become an American citizen, arrived in Massachusetts in January 2001 as a 12-year-old who spoke no English. The adjustment to American life was harder for her parents, she said, than it was for the more adaptable younger members of the family.
Then came 9/11.
"I was in class," she recalls. "Everyone just stopped and they turned on the news. We were sent home, but as a child I didn't really understand it."
In the aftermath, she said, "people said some pretty harsh things to us, calling us terrorists and saying 'go back to your country.'" Being blamed was hurtful, she said. Not only had her own family fled the Taliban, but, as she tried to point out, "Osama Bin Laden wasn't even from Afghanistan."
For years afterward, she said, she protected herself by keeping her distance from Islam and from Afghani culture.
"I wouldn't even tell people I was from Afghanistan," she said.
That changed later on in high school and even more so at Mount Holyoke, a campus with many international students.
"It's a very comfortable, open environment where women can share their thoughts with each other," she said. "I think this feeling is probably something I will never have like this anywhere else."
Khudaynazar majored in biology.
"I always knew I wanted to go into the medical field," she said. "When I was growing up, a lot of people died around me. Now I understand that there was a lot of cancer in my family. I wanted to know why they were dying."
Her interest only deepened when her mother was diagnosed with breast cancer during Kundaynazar's sophomore year. "It was really a difficult time," she said, but her mother is doing well now. "It's a good feeling to know she's going to be OK."
Return trip
Last winter, Khudaynazar left the comfort of her college surroundings to make her first trip back to Afghanistan. "I knew I had to go back." she said. "I knew there was something missing."
With the help of Mount Holyoke's Weissman Center for Leadership, the Afghan Girls Financial Assistance Fund, and the Marigold Fund, she arranged to spend a month working at the Malalai Maternity Hospital, a public hospital in Kabul.
"It was so different, completely different," she said of the country she rediscovered. "I was shocked by how demolished it was, how polluted it was."
But somehow, she said, the people seemed unbowed. "They pick up whenever there is destruction and they keep going. That's what I love about the people of Afghanistan. They're so hopeful, so full of life."
Khudaynazar said it was hard to tell what kind of government the people there want after all the turmoil they've been through.
"I think they're just really tired of always fighting," she said.
Khudanyazar quickly found herself immersed in helping out at the overcrowded, understaffed and under-supplied hospital. Because of the dearth of health facilities in rural areas, many women from outlying areas traveled to the hospital to give birth, she said – and there were always more women than available beds.
"You realized the patients didn't have any other options. It's the reality of living in a developing country," she said.
Khudaynazar lived with an aunt and her family in Kabul. To guard her safety, a male cousin took her to and from the hospital every day. She almost never ventured outside alone.
"It kind of took away from my experience of seeing and living on my own," she said. As she spoke, she gestured at the campus buildings across the street. In Kabul, she said, she wouldn't go even that far alone to run a simple errand.
Though many women no longer wear the burqas that were the norm under the Taliban, Khudaynazar said she always wore a head scarf and clothing with long sleeves. Even so, she said, she and other modestly dressed young women still often attracted unwanted attention that could make them uncomfortable.
"A lot of guys would stare," she said, because many of them still weren't used to seeing women who weren't heavily covered. "It's a curiosity for them."
Khudaynazar said she did see some women out and about and working, and not solely confined to the home, as they were under the Taliban. At least that's true in Kabul, though change has come slowly, if at all, to the rural areas, she said.
Khudaynazar said she worries that the precarious improvements women have made will be imperiled if the U.S. leaves a vacuum behind.
"The country has improved because of the international attention," she said. "In my opinion, until women are able to practice their rights without being demeaned, it would be good for us to stay there."
Despite the enormity of Afghanistan's problems, Khudanyazar said there are signs of progress.
The new generation is pitching in, she said. "There are more educated men and women and more people who have gone abroad for school and come back." International organizations are also working hard to improve conditions, she said.
"I really hope that the country will develop," she said. Some people say they doubt that Afghanistan can survive, let alone thrive, she said, but she is holding on to a fragile optimism. "I do hope it will be peaceful one day," she said.
Now on the cusp of her post-college life, Khudaynazar said she's excited and a bit nervous about the unknowns that lie ahead.
She does feel certain, though, that her future will involve her homeland and her adopted land – and that both will be part of her identity.
"I think culturally and historically I have a strong attachment to Afghanistan and I don't want to forget that part of me. I will want my kids to know that Afghanistan is part of their heritage," she said. "But in terms of values, the way I think, that has been formed by living here. I believe in standing up for what you think is right."
Copyright 2011, Daily Hampshire Gazette, All Rights Reserved.
March 30, 2011
One response to "Web Extras for Spring 2011 "Afghan Women Today""