April 13, 2020: Refunds are being processed this week and will take 8-10 days to credit your account.
March 27, 2020: To request your refund or donate to the Emergency Student Relief Fund, please complete this form by April 2. After this date, if we do not receive a request from you, your refund will be sent back to you automatically.
March 23, 2020: In a message to the Mount Holyoke community, President Sonya Stephens shared that the College has made the difficult decision to postpone Reunion 2020. Alumnae who have already registered for Reunion will receive refunds. In addition, those registered will have the opportunity to request that their reunion payments be redirected as a charitable gift to the Emergency Student Relief (COVID-19) Fund. Our students would welcome and appreciate the support. Details about refunds will be forthcoming. Please direct any questions you may have to reunion@mtholyoke.edu.
March 12, 2020: Due to the rapidly developing nature of COVID-19's national and international impact, the College is closely monitoring the situation in the event that there are potential consequences for Reunion. If cancellation of Reunion Weekend becomes warranted or your plans change, refunds of reunion packages and campus housing will be provided based on our standard cancellation policy of April 30, 2020. Please refer to this page on the College website for updates.
---
We welcome back classes ending in 5s and 0s, plus 2018!
Reunion I
May 15–17, 2020
1950, 1970, 1980, 1995, 2000, 2010, 2018
Reunion II
May 22–24, 2020
1945, 1955, 1960, 1965, 1975, 1985, 1990, 2005, 2015
We are also excited to announce that the Alumnae Association has made some changes to the overall costs of Reunion after listening to feedback from alums over the past few years. In addition to lowering registration fees for all reunion classes, there are also Saturday packages to choose from, helping to make Reunion more accessible for everyone.
---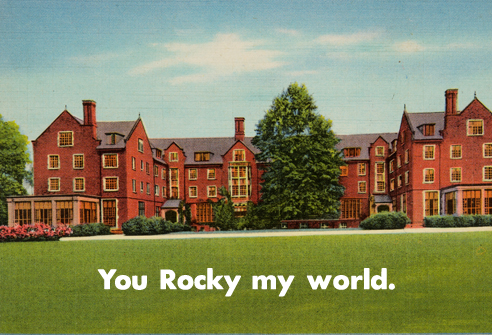 Send a Fun eCard!
Encourage your friends to come back to campus for Reunion 2020 by sending them an ecard with your own message!
---
Athletics Reunion
In a new initiative to reunite teammates and connect teams across generations, Mount Holyoke College's Department of Physical Education and Athletics and the Alumnae Association are hosting equestrian, rowing and swimming and diving sport reunions as part of Reunion II in 2020. The weekend will include the 2020 Athletics Hall of Fame Induction Ceremony and Reception. Learn more.