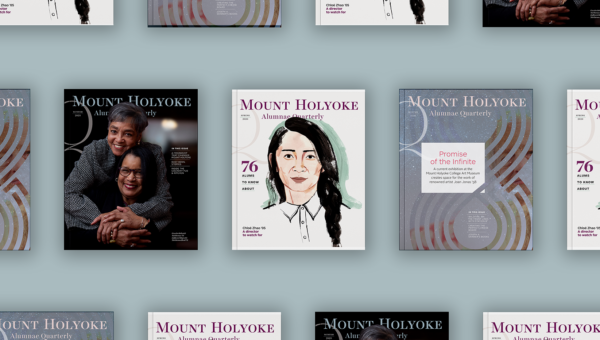 Alumnae Quarterly to publish combined fall/winter issue
The next issue of the Mount Holyoke Alumnae Quarterly magazine will be a combined fall/winter issue, published late this year. The change to the publication schedule was made due to staffing and budget constraints as a result of the coronavirus pandemic.
This decision, approved by the Alumnae Association Board of Directors during a meeting in September, follows other cost-saving measures that have been put in place regarding magazine production since the beginning of the pandemic. In April, during the production of the spring issue of the Alumnae Quarterly, concerns about international mailing constraints at the time led to the decision to not mail the issue overseas. As a result, the Alumnae Association introduced a new online magazine platform, which includes the opportunity for alums to read the entire issue, including class notes, and to share, download and print articles or the full issue.
The summer issue, published in August, was produced during a time of continued budget uncertainties and staff constraints and was published in an online-only format, utilizing even more of the features of the new platform, including embedding video.
The plan for the next issue is to produce a standard-length issue and distribute it in print and digitally. As the Alumnae Quarterly continues to utilize the new online platform in new ways, this online issue will include longer versions of class notes, offering valued class scribes the opportunity to report more news of classmates and for that news to be shared broadly.
As the Alumnae Association continues to work to produce and distribute the magazine in the most cost-effective manner, we encourage readers who prefer to receive the magazine digitally to log in to the online directory and select no hard copy as delivery preference. Readers may also request to receive the digital version only by sending an email to ais@mtholyoke.edu.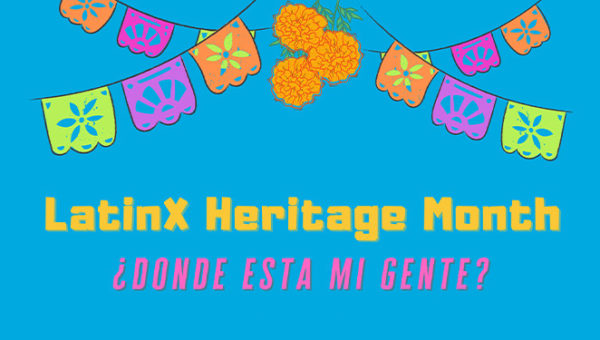 Celebrate Latinx Heritage Month
Join us during the months of September and October as we celebrate the Latinx community at Mount Holyoke.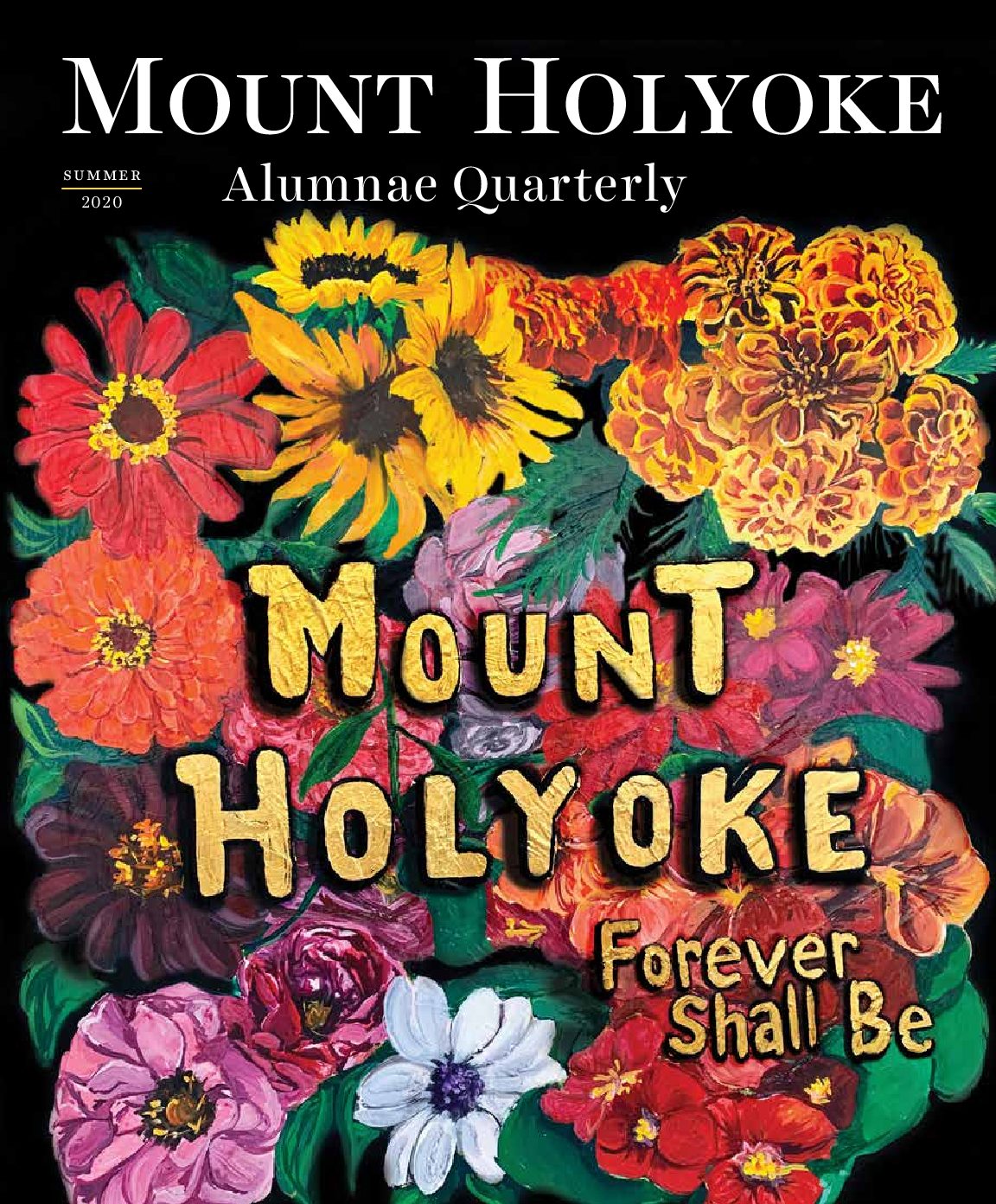 Summer 2020 Alumnae Quarterly
Read the summer Alumnae Quarterly on our new, more accessible online platform.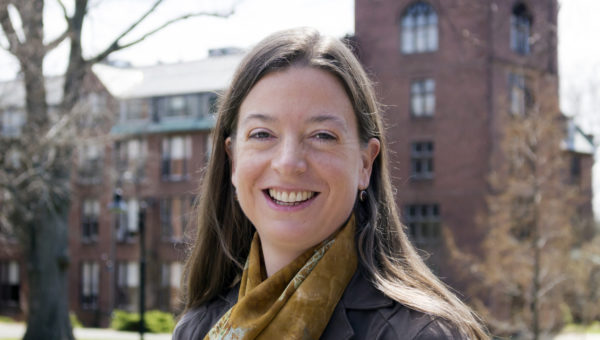 Alumnae Association welcomes new interim executive director
Liz Lierman has been named interim executive director of the Alumnae Association. Lierman, who has served as executive director of the Career Development Center since 2014, transitioned to her new role on July 1 and will serve during fiscal year 2021 in a creative partnership between the Alumnae Association and the College. She succeeds Nancy Bellows Perez '76, who announced her retirement in February after more than four years in the position.
"When the pandemic hit, we were just beginning a search to fill the vacancy, and we needed to pivot quickly, given the circumstances," said Alumnae Association President Maria Mossaides '73, P'04. "I'm excited that Liz is on board. She is an experienced leader who brings to the role knowledge of our alums and strong relationships with the Association staff and other partners across campus. The Alumnae Association is in great hands with Liz at the helm."
Lierman graduated from Williams College with a degree in psychology. She holds masters degrees in social work and nonprofit management from Case Western Reserve University. Prior to joining Mount Holyoke in 2014 she worked at Bard College of Simon's Rock and Oberlin College. In the past six years, Lierman has transformed the Career Development Center, focusing on improving the student experience and building strong relationships with external partners. Lierman has also been a strong partner in support of The Gates, a new platform — to be debuted later this summer — that will enhance connections for alumnae and students in support of career-related opportunities.
"Since joining Mount Holyoke, I have been consistently inspired by Mount Holyoke alums, and impressed by their commitment to supporting the success of students and of one another," said Lierman in July. "In many ways, the partnerships with alums make it possible for the College and its students and graduates to create meaningful change in the world. I am excited about the opportunity to lead the Alumnae Association and work closely with the alum community this year, and to also be of service to the Career Development Center during this pivotal time."
During the next year, Lierman's focus will be to guide the Alumnae Association in its mission to provide diverse programs, expertise and resources that foster lifelong learning and to empower alums to connect with each other and with the College.
"I'm delighted that we were able to take a collaborative approach to filling this important position at the Alumnae Association," said President Sonya Stephens. "There is a synergy in the work of the Alumnae Association and the Career Development Center, and Liz brings to this role not only her vision, imagination and proven leadership, but also deep commitment to Mount Holyoke's graduates and genuine excitement to serve their interests in an expanded way."
The search for the executive director will be announced at a future date.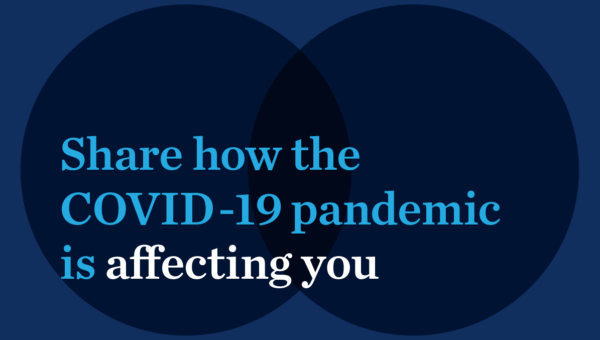 Share your stories with us


Are you a Mount Holyoke alum who is willing to share how the COVID-19 pandemic is affecting your day-to-day life? Email the Alumnae Quarterly staff at quarterly@mtholyoke.edu.
Tell us where you live and what your life is like now.
We aren't looking for anything in particular, just an idea of how our community is facing each day.
If you need a prompt, here are some questions we've come up with that you could reflect on:
Are you now working from home?
Have you always worked from home?
Are your children home from school?
Are you unable visit family?
Are you or is someone you know currently sick and/or in a high-risk category?
Are you in quarantine or isolation?
Do you have access to necessities?
Have you been laid off or had to lay off someone else?
Do you work in the healthcare industry?
If you are more of a visual person, we'd love to see your photos or a drawing, sketch, sculpture, or any other creative representation of how you would like to share your current situation. Remember to include where you live.
Please note that by sharing your original reflections or art with us, you understand that we may include them on the Alumnae Association website, on our social media pages, or in the Alumnae Quarterly. Unless anonymity is specifically requested, names and locations will be included with the content.
Thank you. We look forward to reading or seeing your work.
..