Maggie McGovern '97: Putting Peace into Practice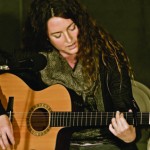 "Let there be peace on earth, and let it begin with me," begins the well-known folk song. Maggie McGovern has taken those words to heart, teaching nonviolent communication to prisoners in San Quentin and trying to improve support services for parolees. She's working toward certification from the International Center for Nonviolent Communication.
Every week for a year and one half, she taught groups of eight to twenty-five male inmates—short-termers and lifers—how to consider what motivates their actions, and others' actions. "Instead of thinking, 'That guy looked at me; he's a threat; I'm going to protect myself by punching him,'" Maggie explains, "I helped them slow down, think it through, and realize that 95 percent of the time the person's not a danger."
When a prisoner who became a friend was released from San Quentin this year, Maggie realized how little support there is for many experiencing the tumultuous transition from prison to the outside world. "If a man has been in prison for seventeen years but is released, he's coming into a completely different world with a different set of rules. He'll experience culture shock just like someone moving to another country," she says. In addition to practical concerns such as finding housing and a job, parolees often must cope with wrenching psychological issues. "For seventeen years, gaining his freedom has been his purpose. When he's free, he may feel 'Who am I? What's my purpose?'" she explains. "Parolees need way more support," Maggie concludes, and she plans to create a support program if necessary to make sure they get it.
While working toward that goal, she is also mediating discussions between juvenile offenders and their victims, trying to support both groups; and paying the bills with her empathic coaching business. And when the muse strikes, Maggie is telling prisoners' stories through original songs. —E.H.W.
[soundcloud url="https://api.soundcloud.com/tracks/189293832″ params="auto_play=false&hide_related=false&show_comments=true&show_user=true&show_reposts=false&visual=true" width="100%" height="450″ iframe="true" /]
April 18, 2012