Ten Minutes With: Lourdes Melgar '85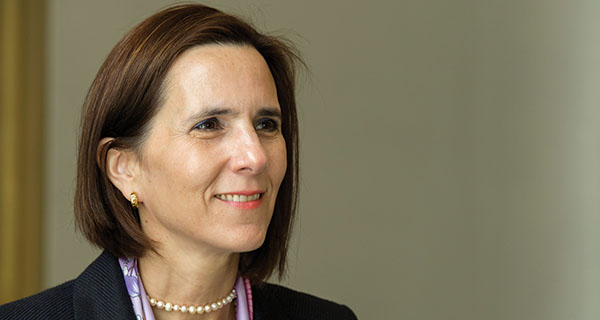 Lourdes Melgar '85 is Mexico's deputy secretary of energy in charge of hydrocarbons. Encouraged by her advisor, Professor Vinnie Ferraro, to attend Massachusetts Institute of Technology, she became the first Mexican woman to earn a doctorate in political science there. In addition to a background in government service, she has worked as a scholar and an independent energy consultant and is fluent in Spanish, English, and French.
On her journey to energy expertise:
I started at Mount Holyoke as a physics major and ended up studying international relations and romance literature. I was always interested in science, particularly nuclear energy, but I decided to also take courses in history and international relations. Early on I learned that I didn't want to work in a lab; I wanted to work with people. At MIT I studied political economy, and, though I didn't plan to, I focused my studies on Mexico. My first job upon returning to my country was as a speechwriter for the president. I didn't particularly enjoy this position, but I value it as a stepping stone that allowed me to discover one of my true callings, joining the Foreign Service.
My first semester was challenging. But I loved it. The education. Quality of life. The opportunity to be creative, express myself, say what was on my mind.

Lourdes Melgar '85
On why she enjoys her work:
In 1938 Mexico was at the forefront among resource-rich countries when it nationalized its oil industry to further economic development. The model that had been successful for decades reached its limits a few years ago. We needed an overhaul of our energy sector. At the end of 2013, Congress approved a constitutional reform that cleared the path for the enactment of twenty-one new energy laws in summer 2014. Mexico's new regulatory framework aims to develop competitive, efficient, and sustainable energy markets—both in the electric and hydrocarbon sectors. I feel privileged to have been part of the design, negotiation, and implementation of this transformational reform, first as undersecretary of electricity and in my current role.
On her biggest challenge:
Reconciling the objective of mitigating carbon emissions while developing an energy model that incentivizes investment and contributes to Mexico's economic development is my main focus and challenge. From 2010 to 2012, as  the founding director of the Center for Sustainability and Business at Mexico's Egade Business School, I worked closely with the private sector to identify opportunities to enhance sustainability. As a policy maker, promoting sustainable development remains a priority.
On Mount Holyoke:
I was accepted as a February freshman. My English wasn't great, and I became aware it was a women's college only a few days before arriving. My first semester was challenging. But I loved it. The education. Quality of life. The opportunity to be creative, express myself, say what was on my mind. And the enormous value of friendships with women who were supportive. My Mount Holyoke friends are still my closest friends.
This article appeared in the spring 2015 issue of the Alumnae Quarterly.
April 13, 2015