Judith O'Connor Hayes '68 Excavates in Isreal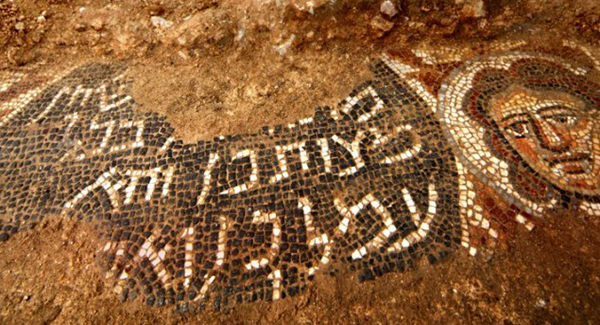 Last spring Judith O'Connor Hayes '68 received the Frances Mary Hazen Fellowship, allowing her to participate in a monthlong excavation in Huqoq, Israel. Awarded to a candidate in the field of classics, the Hazen Fellowship is one of eight fellowships offered annually by the Alumnae Association.
As a high school Latin teacher, Hayes has devoted herself to the study of antiquity. To introduce her students to Roman civilizations, she arranged summer study programs in Italy. On those trips she was always intrigued by the archaeological sites they visited. Her curiosity later piqued in March of 2013, when she visited sites in Israel and Jordan with her church. When she received an email notification about Alumnae Association fellowship applications last fall, she seized the opportunity to pursue her passion.
Two days after arriving in Israel, Hayes was already in the field preparing to dig. Often on the job as early as 4:45 a.m., she spent long days with a team of five in a four-meter-square plot, helping to uncover the remains of an ancient village near a fifth-century synagogue—a project that was started in 2011 by Jodi Magness, one of the most renowned biblical archaeologists in the world.
I have to discern a way to share my experience with the younger generation.
Judith O'Connor Hayes'68
Over the course of her time in Israel, Hayes learned that she was capable of physically demanding work, but, she says, "the actual digging . . . was the easy part." One of Hayes' personal goals was to comprehend the scope of an archaeologist's work. So in addition to her daily work at the site, she talked to staff members, attended lectures, and spent many afternoons in the registrar's lab helping to catalogue the days' finds.
Though she's back from Israel, the fellowship continues to impact Hayes and her community. She is working to revive Archaeology Day, an event held for middle-schoolers across several Chicago public schools. The annual event stopped when its organizer retired, but Hayes would like to revive it. "I have to discern a way to share my experience with the younger generation," she says.
Learn more about Alumnae Association Fellowships, including the Lyon's Pride Fellowship, new last year and awarded to an alumna "pursuing an LGBT, gender, or feminist studies project," at alumnae.mtholyoke.edu/fellowships.
—By Olivia Lammel '14
This article appeared in the fall 2014 issue of the Alumnae Quarterly.
Interested in Applying for an Alumnae Fellowship?
Thanks to generous gifts from alumnae, the Association offers fellowships to Mount Holyoke graduates each year. Applications due by January 15 and are disbursed July 1. Learn more »
October 15, 2014