Q&A with Amy Celico '91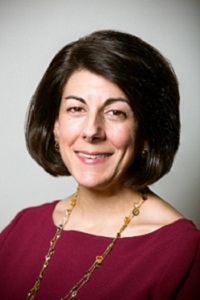 This past March, Amy Celico '91 met with Mount Holyoke students in Washington, DC, for the "MHC Lynk: On the Road" networking program. "My interest in China was spawned by a Chinese history class I took as a junior in high school," she says, a principal at Albright Stonebridge Group (ASG). An Asian studies major at Mount Holyoke, "that interest remained a unifying and consistent part of my academic life and career since I graduated from MHC," she continues. She now lives in Washington, DC, and is one of eleven partners of Albright Stonebridge Group, a private strategic advisory and commercial diplomacy firm. ASG serves a variety of American and multinational companies, industry associations, and nonprofit organizations, helping them to enhance their reputations and overcome regulatory and policy hurdles in foreign markets. At the firm's headquarters in Washington, DC, Celico leads the China and broader Asia practice. One of her partners at Albright Stonebridge Group is MHC alumna and Trustee, Suzy George '90.
—By Olivia Lammel '14
What do you do on a typical day at work?
One of the best aspects of my current job is that there is no such thing as a typical day at Albright Stonebridge Group. Our clients want our informed analysis of how global issues are impacting their business, their policy priorities, and their programs in foreign markets. Since I focus on Asia, I am trying to help my clients better understand and deal with a diverse set of issues. Over the last few weeks, this has included gauging the openness of China's new leadership to trade and investment reform; assessing how Myanmar's ethnic tensions could affect the country's presidential elections scheduled for next year; and explaining how Russia's actions in Crimea impact US-China relations. These complicated policy issues affect how our clients operate around the world, and I enjoy working to help them understand and effectively handle these challenges
What is the most challenging part of your job?
Working on global policy issues, there is often no definitively "right" answer to a problem. This job challenges my colleagues and me to develop and defend solutions that we cannot "prove" will be right or wrong. I enjoy this challenge tremendously.
Have you ever had any unexpected career turns?
There have been a few twists in the road of my career. One occurred early on in my career, when I abandoned the hope of aspiring to MHC Professor Jonathan Lipman's example of becoming a Chinese historian, instead pursuing a career in the US government. After completing my master's, I joined the US Department of State as an intelligence analyst and then diplomat stationed in Shanghai. Working for the US government in Washington, DC, Shanghai, and Beijing for four different agencies—the US Departments of State, Defense, Commerce, and the Office of the US Trade Representative—I assumed I would be a life-time government bureaucrat.
Almost seven years ago I made a second, unexpected career turn by "jumping into the sea"—the Chinese way of describing when someone leaves the government to join the private sector. Thanks to a mentor, I was given the opportunity to join my current firm. What I thought would be a short detour from government service has become a fascinating new stage of my career, allowing me to build up a China practice to serve clients and help direct the growth of this company.
Do you have any pointers for students who want to go into international relations/international business?
In today's increasingly small world, you cannot go too far wrong if you work to become an internationalist through trial and error. I strongly encourage students to go abroad, try living in a foreign country (or a few foreign countries), and find where your passion lies—in a region, an issue, or an industry. Once you have found what excites you intellectually, it will help you focus your career, at least for a period of time. Give yourself the freedom to experiment and change your mind about what excites you most.
April 30, 2014